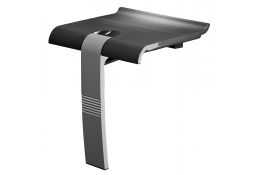 Ref: 135740
With automatic stand.
Ergonomic 450 mm large size seat made of anthracite grey polymer.
Epoxy-coated aluminium structure (tube Ø 25 mm).
Concealed fixings.
Standard height 500 mm.
Locking position, tamper-proof lock.
Can be unplugged from its wall bracket for cleaning and occasional community use.
Can be replaced by a shower shelf if the user doesnt need the seat.
Supplied with the shower shelf.