Industrial equipment
Our stock of machinery is spread across our two plants in Rhône-Alpes with 2000 m2 of raw materials and a 2-tonne travelling crane.
Our high-performance equipment enables us to manufacture top quality products from initial design to finished product and we invest regularly in the appropriate equipment to ensure we remain at the cutting-edge of technology and stand out from the crowd in an increasingly demanding market.
We are thus able to offer products adapted to our customers' needs thanks to the flexibility of our excellent production facilities.
Our manufacturing equipment :

Manufacturing materials: aluminium, steel, stainless steel and brass
Manufacture of bars up to Ø 50 mm.
Cutting equipment :
2 automatic cutting lines (steel and aluminium)
1 semi-automatic cutting line
Degreasing equipment :
Cutting and pressing :
1 x 100-tonne automatic feed line for press
8 x 15- to 100-tonne mechanical presses
2 x 30- and 100-tonnne hydraulic presses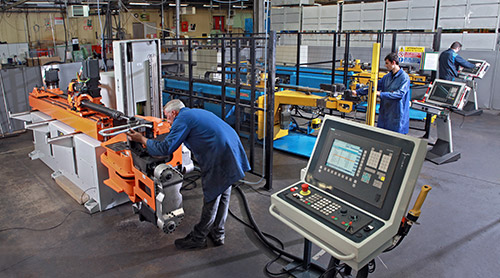 Bending :
3 x 5 to 11 axis-controlled tube bending machines
1 dual-head bending machine with spindles
Crimping :
1 automatic crimping unit for bar mountings for non-sighted persons
1 crimping unit for bar mountings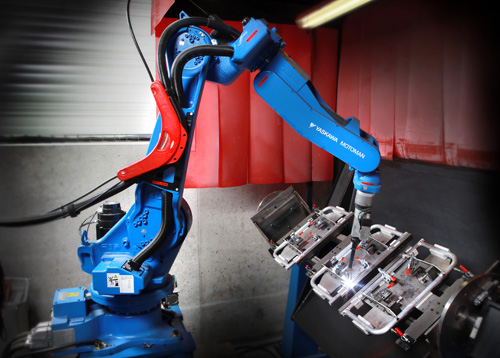 Welding :
2 x 7-axis robot unit combined with loading and unloading turntables. MIG aluminium and steel
2 MIG-TIG steel, stainless steel and aluminium manual units
4 Fronius generators
1 manual laser brazing machine
3 spot welding machines
Welding robot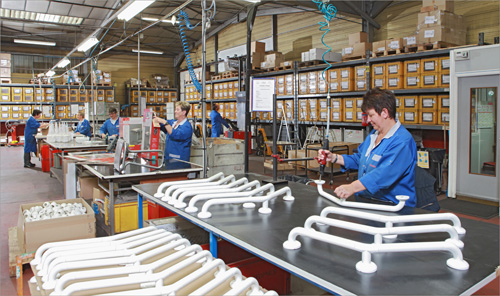 Our finishing equipment :
Surface coating
Mass finishing line
Assembly line
Automatic packaging chain
Packaging on palettes
Manufacture :
Medium and large series
CAPM production management on AS400
Production quality
Surface coatings
Implementation of processing operations for epoxy, chrome-plating, zinc-plating and cataphoresis treatments.